Bullion Coins
In 1933, Franklin Roosevelt signed a law prohibiting Americans from owning gold. Since 1986, Americans have been encouraged to hoard gold, silver, and platinum through the american bullion coins program. The bullion coins have classic designs taken from the walking liberty half dollar, the St. Guadens double eagle,and the buffalo nickel.
The modern Walking Liberty bullion dollar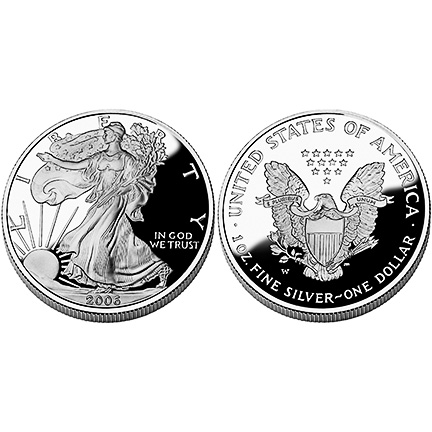 Adolph Weinman's design is currently used on the one dollar silver bullion coin, which was minted starting in 1986. For more information about Adolph Weinman, please see the Walking Liberty half dolalr page. The mint produces uncirculated and proof coins each year. Many of the coins end up graded and encapsulated by NGC or PCGS. The MS70's and PF 70's demand substantial premiums (despite the fact that they look the same to the naked eye and an MS69 or PF69).
Mint halts prduction of proof eagles for collectors
Since 2009, mintages of proof coins were halted by the mint -- allegedly because of a shortage of blanks. According to the mint: "Currently, all available silver bullion blanks are being allocated to the American Eagle Silver Bullion Coin Program, as the United States Mint is required by Public Law 99-61 to produce these coins "in quantities sufficient to meet public demand."
The modern St.Gaudens Eagle bullion coins.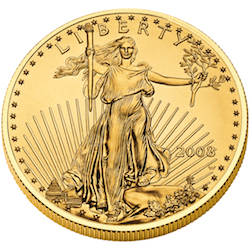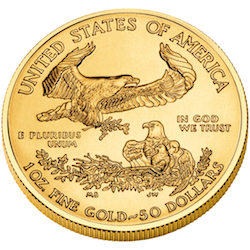 The United States mint revived the obverse design of the St. Gaudens double eagle in 1986. Gold bullion coins are produced in denominations of $50 (1 ounce), $25 (1/2 ounce), $10,(1/4 ounce), and $5 (1/10 ounce). Hmmm, if we do the math, we find that two fives do not equal a ten. History repeated itself, as the first coins were made with Roman numerals. Americans, of course, cannot read Roman numerals, and so Arabic numeral were used starting in 1992.