Adolph Weinman
Adolph Alexander Weinman was born in Germany in 1870 and immigrated to the United States at age ten, when he studied with Augustus St. Gaudens. In 1904, he opened his own studio and became an architectural sculptor.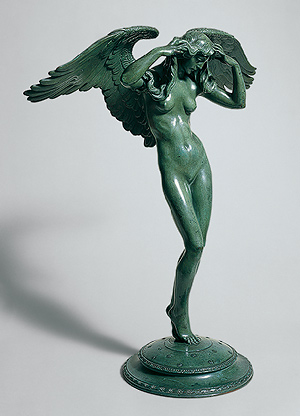 Adolph Weinman created Descending Night, in 1914 by for the Panama-Pacific International Exposition of 1915 in San Francisco. This small bronze is located in New York's Metropolitan Museum of Art. Weinman referred to it as his best selling sculpture.
The 1916 Walking Liberty Pattern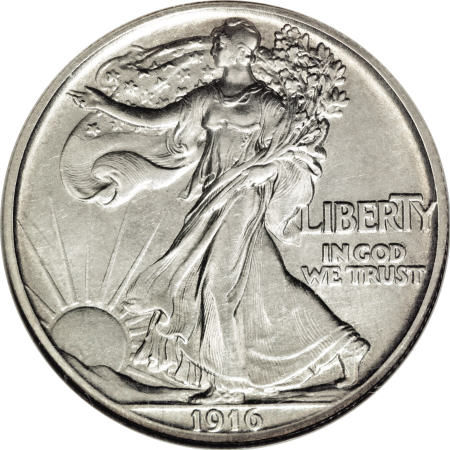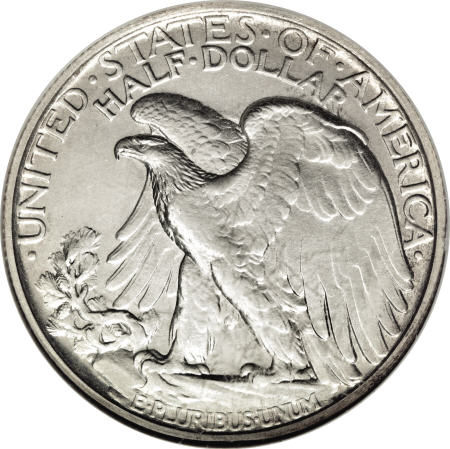 President Theodore Roosevelt had been one of the sharpest critics of US coin design. He rid himself of the Barber coins and used designs by Adolph Weinman for the Mercury dime and Walking Liberty half dollar. The Walking Liberty half dollar debuted in 1916. A rare pattern coin has a funky version of the word liberty (with the T capitalized). (Dr. Planchet generally does not use words like "funky" , but it applied here). The reverse has the words "half dollar" and "e pluribus unum" locations differing from the final coin design.
The Walking Liberty Half Dollar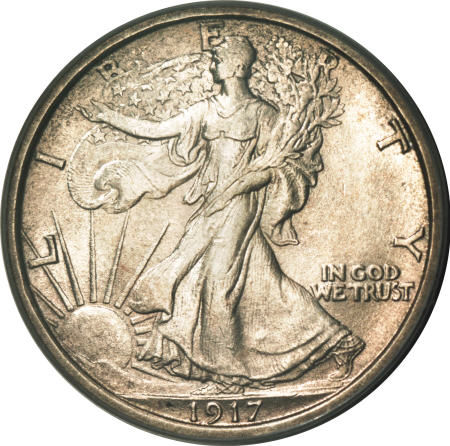 In 1916,the mintmarks for coins minted in Denver and San Francisco were placed directly below "In God we trust." The location was changed to the reverse part way through 1917, creating two distinct varieties for that year.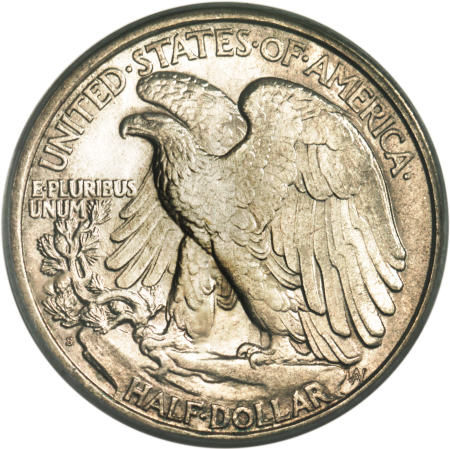 Collecting Walking Liberty half dollars
The Walking Liberty half dollar competes with the St. Gaudens double Eagle as the most beautiful coin created in the US. As a result, many collectors go for the coins in pristine mint condition. Half dollars regularly circulated, and so most of the coins are badly worn. This contrasts with today, when I have not received a half dollar in change for over ten years. Choice uncirculated specimens are, therefore generally valuable. Some collectors collect only the later years, known as the short set. This generally consists of collecting the coins minted only in the 1940's. Many of the earlier dates are extremely scarce in the mint state. The scarcest dates in the series are 1921, 1921D, 1921S and 1938D. Other tough dates include the 1917 coins with mintmark on the obverse, along with 1916 and 1919. Proof coins were minted between 1936 and 1942.
The modern Walking Liberty bullion dollar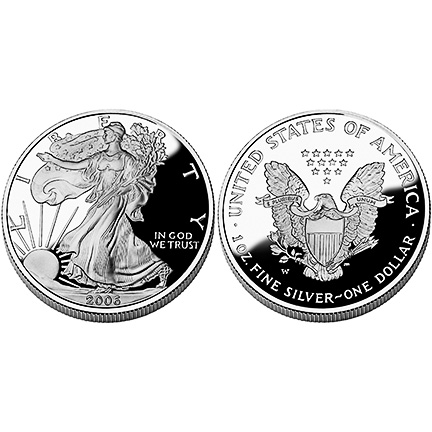 Adolph Weinman's design is currently used on the one dollar silver bullion coin, which was minted starting in 1986. The mint produces uncirculated and proof coins each year. Many of the coins end up graded and encapsulated by NGC or PCGS. The MS70's and PF 70's demand substantial premiums (despite the fact that they look the same to the naked eye and an MS69 or PF69).
Many coins are turnied into artwork. Although i consider this exonumic nonsense, a website called
walkingliberty.us
contains many examples of jewelry made from walking liberty halves.