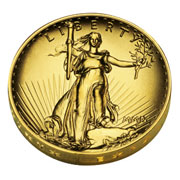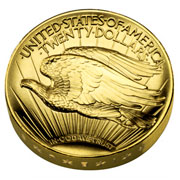 The first St. Gaudens double eagles were produced in 1907, struck in high relief, with Roman numeral dates. The high relief pieces, however were impractical and so aesthetics were partially abandoned. Flatter coins with Arabic numerals were struck later that year. Now,one hundred years later, the mint will try again to realize St. Gaudens' dream. this time the mint will make the coins out of pure gold. During the last attempt, the gold was mixed with copper to make it more durable. Here the gold will be softer, making it easier to attain the ultra high relief.
The minting of the ultra high relief St. Gaudens coins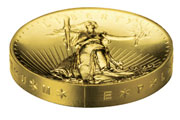 The original coin plasters made by Augustus St. Gaudens were digitized in order to create the modern version in pure 24 karat gold.
Collecting the ultra high relief St. Gaudens coins
The mint is putting the St. Gaudens ultra high relief gold coin on sale January 22, 2009. How much will they cost? Sorry, this is a state secret. The mint will only accept online orders due to the volatility of gold prices. Currently they are limiting the nurchases to one per household. There has not been any mintage limit established by law. How many will they make? Even Dr. Planchet does not know.
St.Gaudens gold coins
For more information about the gold coins designed by Augustus St. Gaudens, please go to
the Augustus St. Gaudens page.