Custom Search
Old Spanish Trail Commemorative Half Dollar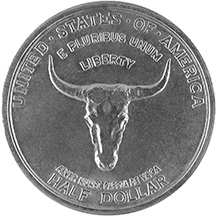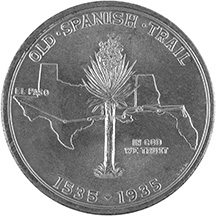 This is among the most absurd designs in all of US coinage. In 1535, Alvar Nunez Cabeza de Vaca led an expedition to explore the gulf coast. To celebrate the 400th anniversary, the US honored Mr. Cabeza de Vaca with a coin. In Spanish, "Cabeza de Vaca" means "head of a cow." Guess what the mint used as portrait. Would Cabeza de Vaca be honored? I'll let you be the judge.
Rarity of the Old Spanish Trail Half Dollar
Only 10,008 coins were minted, making this among the rarest of the classic commemoratives. Most of the coins seem to have survived in the mint state.
Custom Search