Custom Search
Oregon Trail Commemorative Half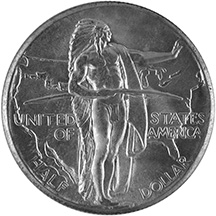 I know that I have excoriated the mint for many of its coin designs (such as the boat on wheels for the Columbian half). The Oregon Trail half dollar, in my esteemed opinion, ranks among the most beautiful of all US coins.
Heads or tails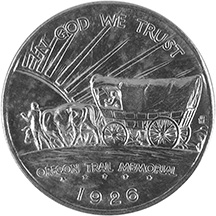 Numismatists generally regard the side with the Indian as the obverse and the wagon side as the reverse. However, the mint believes that the wagon side is the obverse since it contains the date.
James Earle Fraser, designer of the buffalo nickel, designed the Indian side. Fraser was always an advocate for the rights of native Americans.
The left hand of is raised as if warning those of the East to keep away. In the background is a map of the United States with the Oregon Trail indicated.
Laura Gardin Fraser designed the side of the coin with the conestoga wagon. Laura Gardin Fraser designed several commemorative coins and medals including the Grant half dollar and gold dollar (1922), and the Vancouver Centennial half dollar (1925).
Years of issue.
The Oregon half dollar was first issued in 1926, then 1928, 1933, 1936, 1938, and 1939. Coins were minted in Philadelphia, Denver, and San Francisco. There are fourteen coins in a complete set, although most commemorative collectors collect by type. The first year was by far the most common with 47,955 minted in Philadelphia and 83,055 in San Francisco. The scarcest date is the final year, 1938, in which only 3004 sets were made.
Custom Search