Custom Search
Flipper Coins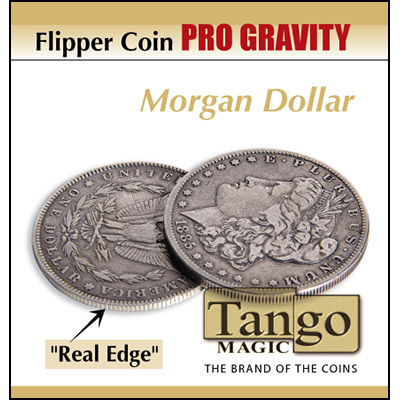 One of my favorite "magic" coins is the flipper coin. There are a plethora of routines with the flipper. The most basic -- shown in the video above, shows how two coins instantly turn into a single coin. It is also possible to have one coin turn into two. some of my other favorite routines that use flipper coins include putting two coins underneath a drinking glass filled with water. One of the coins magically penetrates the glass and ends up inside.
Types of flipper coins
As a numismatist, I enjoy working with the older, classic coins. My favorite flipper coin is the Morgan dollar flipper coin which can be a bit pricey (list price of $200.00 from Tango Magic). I also tend to favor the larger coins over the smaller coins simply because the tricks look more impressive. There are slightly less expensive versions with a half dollar, quarter, and euro. Beware of some of the cheaper versions that look less realistic.
Origin of the Flipper Coin
The magic tricks that are used with a flipper coin is a relatively recent invention. The first flipper coin was devised by Bob Swadling in 1970. Some flipper coins made out of classic and modern coins have been produced by Todd Lassen and Jamie Schoolcraft.
Custom Search